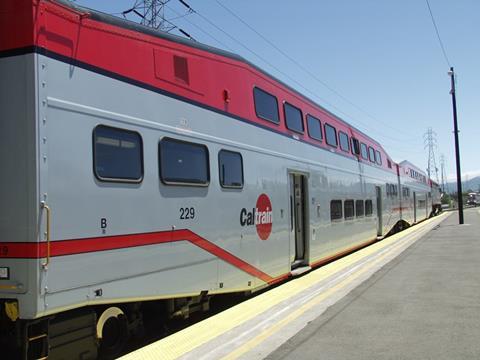 USA: The Bay Area Air Quality Management District has approved the allocation of $20m to help fund the electrification of the Caltrain corridor in northern California.
The grant is being funded through the Mobile Source Incentive Fund, which is collected from a $2 fee on motor vehicles registered in the Bay Area; $5m is to be disbursed over each of the next four years.
The project envisages the electrification at 25 kV 60 Hz AC of 82 route-km between San Francisco and San Jose. The first electric trains are due to start running by late 2020.
According to Caltrain, electrification would reduce the consumption of diesel fuel by nearly 13 million litres per year, with a resultant fall of 450 tonnes of associated particulates.
The total project cost is estimated at $1·53bn. This is to be met through local, regional, state and federal sources. The California High Speed Rail Authority is providing $705m towards the electrification and installation of Positive Train Control, which would allow future high speed services to use the Caltrain route.
CHSRA has issued a request for qualifications for environmental and engineering services for the San Francisco – San Jose and San Jose – Merced sections of the high speed line project. The value of the three-year contract is estimated at $36m. Responses are due by September 14.