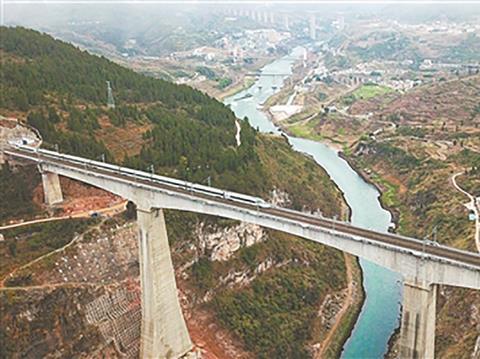 CHINA: The National Development & Reform Commission has given the go-ahead for construction of the 699 km Chongqing – Kunming Passenger-Dedicated Line.
This corridor includes 681 km of new route plus 18 km of the Zigong to Yibin PDL which is already under construction. The package also includes connections to the Chongqing – Guiyang conventional line at Chongqing Nan, double-tracking of the Chongqing to Guiyang line between Chongqing Nan and Jingkou, a link to the Shanghai – Kunming PDL at Songming, a new station at Kunming Nan and an eight-track rolling stock inspection centre at Chongqing Nan. There will be 20 stations in total.
The 350 km/h line is expected to take six years to build at a total of cost 141·6bn yuan, including 7·7bn yuan for the rolling stock. The central government will provide 67·3bn yuan, with the remainder to be come from China Railway and the provincial governments of Chongqing, Sichuan and Yunnan. The line is being designed to handle 30 million passengers in each direction per year.
NDRC has also approved the construction of the 210 km Puyang – Jinan section of the Zhengzhou – Jinan 350 km/h PDL, with seven stations. Construction is scheduled to take five years at a cost of 40·9bn yuan, including 2·3bn yuan for rolling stock.
The 85 km Hezi – Lankao Xi PDL is to be built over three years at a cost of 10·9bn, with one intermediate station.