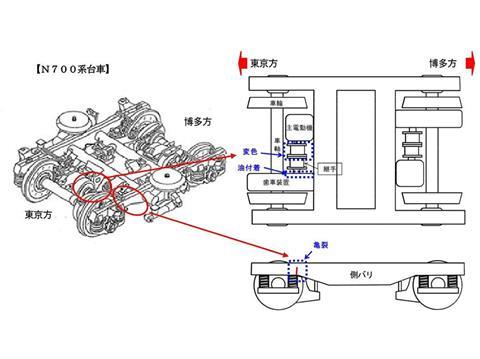 JAPAN: The Japan Transport Safety Board has begun an investigation following the discovery of a crack in a West Japan Railway N700 trainset bogie, in what is the first incident affecting a high speed train to be designated as 'serious' under a classification system established by the government in 2001.
Passengers and crew on JR West's 13.33 Nozomi 34 service from Hakata station in Fukuoka to Tokyo on December 11 reported a burning smell when leaving Kokura. Maintenance staff who boarded at Okayama heard an abnormal motor sound between cars 13 and 14. A decision was made to continue the service, but the burning smell was then detected again at Kyoto station. The train was stopped at Nagoya for an underfloor inspection, which found an oil leak near a gearbox.
The trainset was then removed from service for further checks, which discovered a discoloured transmission and cracked bogie frame on coach 13.
JR West said an emergency inspection of other bogies from the same supplier had not found any similar problems.