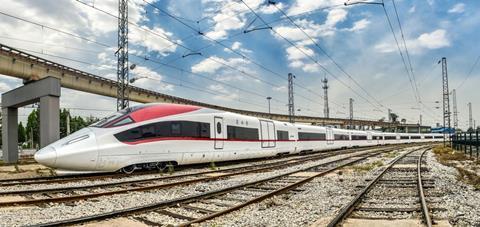 CHINA: Rolling stock builder CRRC Tangshan has unveiled a prototype 350 km/h trainset aimed at the premium logistics market, derived from its China Standard passenger EMUs.
CRRC has been exploring the scope for high speed EMUs to support China's rapidly growing e-commerce and logistics sector, which topped 60bn yuan in 2019. As with other promoters around the world, it sees huge potential for providing fast, punctual and safe deliveries into major centres in an environmentally-sensitive way.
Earlier this year, the manufacturer demonstrated the concept by temporarily repurposing a Tangshan-built CR400BF trainset to transport goods for the 'Double 11' shopping festival organised by Alibaba's e-commerce platform Tmall in Wuhan from November 1 to 20.
With authorisation from the National Railway Administration, the eight car unit had its seats temporarily replaced by racking and securing belts. This provided space to accommodate 40 tonnes of crates and parcels from Beijing and Tianjin, which were transported from the capital to Hankou in just 5 h.
Unlike the modified unit, where individual consignments had to be loaded manually through the passenger doors, the purpose-built high speed freight train unveiled on December 23 has 2 900 mm wide double-doorways to accommodate unitised loads, and a remote-controlled roller floor in each vehicle.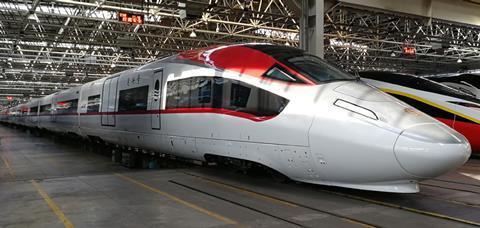 The interior layout is designed to accommodate two rows of containers, which would be positioned automatically, occupying up to 85% of the total floor area and maximising the payload. The 800 m2 of usable floor area would enable each trainset to carry up to 120 tonnes of freight.
CRRC Tangshan plans to use a computerised booking system to optimise the positioning of individual loads for both weight distribution and rapid loading and unloading at transfer hubs. It says the cloud-based intelligent stowage system will combine big data analysis and advanced algorithms, using data from satellite navigation, ultra-wideband positioning, and load weighing systems.
Fast freight strategy
According to Zhou Zhicheng from the China Federation of Logistics & Purchasing, high speed freight trains are aimed at medium and long distance markets of between 600 km and 1 500 km. He told local media that 'they have significant advantages such as timeliness, high operating frequency, low transportation costs and all-weather operational capability'.
The manufacturer anticipates that the trains would be able to cover 1 500 km in less than 5 h, and would be less affected by weather conditions than air or road transport. The prototype is designed to operate in ambient temperatures between -25°C and +40°C.
A white paper on 'Sustainable Development of Transport in China' issued by the State Council in mid-December says China is looking to put in place 'a modern comprehensive transport system' by 2035 which would 'substantially improve public satisfaction levels and better support national modernisation'.
Under the latest China Railway master plan published in August, the national network is expected to reach 200 000 route-km by the end of 2035, including 70 000 km of high speed lines. All towns and cities with a population of 200 000 should be rail-connected, and those with more than 500 000 would be served by high speed trains.
This opens up significant opportunities for modal shift of premium freight to high speed rail services, says Feng Hao, from the National Development & Reform Commission's Institute of Comprehensive Transportation. High speed freight trains, 'will be the next growth point for China's railway transport equipment sector', along with standardised container trains, cold chain logistics, and enhanced cross-border passenger and freight transport.
'The pushing power behind the application of high speed cargo trains is China's booming e-commerce sector and fast pace of urbanisation', Feng explained. 'It is also a notable move to show global companies that China is continuing to build world-class transport infrastructure to attract foreign investment. This will also enrich its new "dual-circulation" development pattern, which views the domestic market as the country's economic mainstay, with domestic and foreign markets complementing each other.'
A bullet freight train with a designed speed of 350 km/h rolls off the assembly line in Tangshan, China. It's the world's first 350 km/h freight train. #HighSpeedRail pic.twitter.com/yl81Uur1PR

— China Xinhua News (@XHNews) December 24, 2020
>