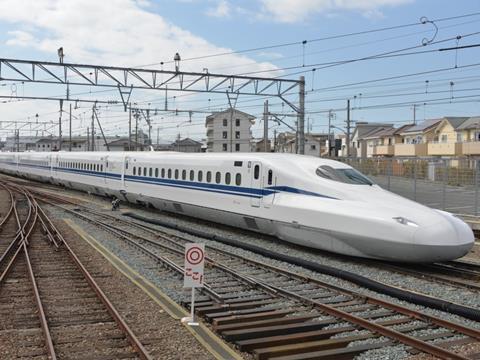 JAPAN: Central Japan Railway confirmed at the World Congress on Railway Research in Tokyo on October 30 that battery traction packs would be fitted to its next generation fleet for the Tokaido Shinkansen.
Branded N700S or 'Supreme', the 16-car trains are expected to enter service next year on the world's first dedicated high speed line between Tokyo and Osaka, marking the latest iteration of the service made famous by the Series 0 'bullet trains' of 1964.
The N700S incorporates a number of technical advances intended to save weight and space compared to the existing N700A design. These weight and space savings have given JR Central the opportunity to add a 'rescue pack' formed of lithium-ion batteries, Research Specialist Kenji Sato told delegates at WCRR.
The batteries would be used to move a stricken train at low speed in the event of a serious interruption to the overhead power supply. Sato would not be drawn on the precise capabilities of the powerpack, but he said that it would be able to move a train clear of any bridge or tunnel on the Tokaido Shinkansen; the longest tunnel on the route is 8 km long. He suggested the most likely application of the pack would be in the event of an earthquake, when moving a train to a position for optimal evacuation would be a priority.
The battery packs are to be fitted to eight of the 16 vehicles in an N700S trainset. Toshiba is supplying 192 of its rechargeable SCiB li-on battery modules per train; this is the same battery technology the company is deploying on its battery hybrid shunting locomotives now being produced for Deutsche Bahn.
For more details on the N700S programme, see the December 2017 issue of Railway Gazette International in our digital archive.