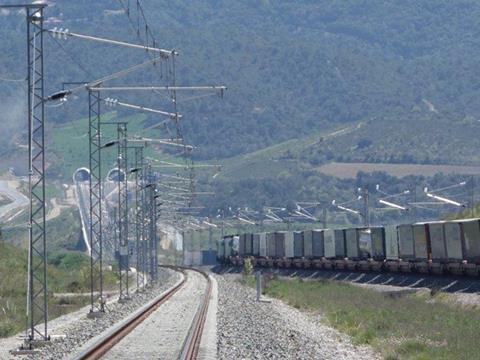 SPAIN: ADIF has commissioned Sener Ingeniería y Sistemas to study the effects of passenger and freight trains passing on mixed-traffic sections of the 1 435 mm gauge high speed network.
The 16-month project will include field tests to observe and analyse the aerodynamic forces exerted when 120 km/h freight trains cross passenger trains running at more than 200 km/h in the open air or in tunnels.
ADIF has found there is little information on the behaviour of wagons and payloads at such speeds, in particular the effects on lightly-loaded intermodal containers.
The €447 000 contract awarded on February 18 will support the infrastructure manager's ongoing research into the use of the high speed network by freight trains, which has included the certification last year of the OGI variable-gauge wagon bogie developed jointly with Tria and AZVI.
The Eje Atlántico high speed line between A Coruña, Santiago de Compostela and the Vigo area is intended for use by freight traffic, as is the 1 435 mm gauge link from the Port of Barcelona to Perpignan via Girona and Figueres.
Between Figueres and Perpignan the maximum permitted speed for passenger trains using the cross-border tunnel is 200 km/h, similar to many conventional main lines in Europe. ADIF wishes to understand whether passenger train speeds could be raised while maintaining the same operating parameters for freight trains.
It is envisaged the results could also be applied in the future to the whole route from Barcelona to Perpignan, and on future mixed-traffic high speed lines including the 1 435 mm gauge Basque Y and the mixed-gauge line from León to Pola de Lena.