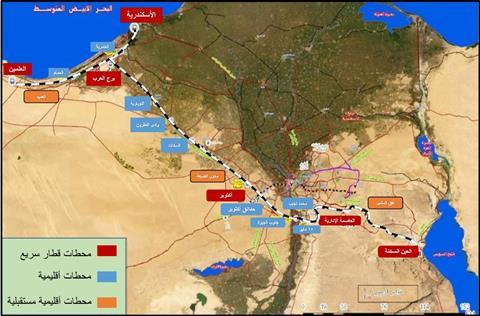 EGYPT: A memorandum of understanding for the design, construction and maintenance of a 1 000 km high speed rail network has been signed by the Ministry of Transport's National Authority for Tunnels, Siemens Mobility and local companies Orascom Construction SAE and The Arab Contractors (Osman Ahmed Osman & Co).
The first phase would be a 460 km line connecting El Alamein on the Mediterranean to Ain Sokhna on the Red Sea via the New Administrative Capital, with 15 stations. This would be designed for 250 km/h operation and suitable for both passenger and freight traffic.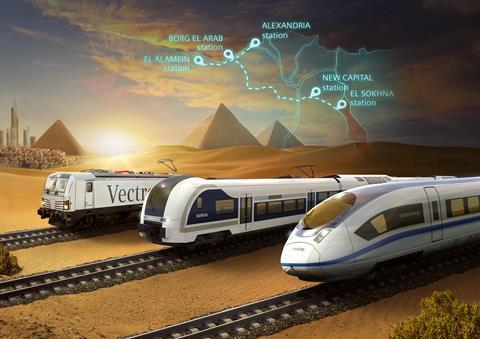 It would be developed under a US$3bn turnkey engineering, procurement and construction project including 15 years of services. The local companies would undertake civil works, with Siemens Mobility responsible for the railway systems, providing system integration services and supplying 34 passenger trains for high speed and regional services as well as 10 freight locomotives.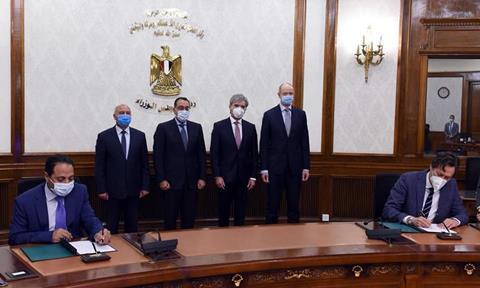 The MoU was signed in Cairo on January 14 by National Authority for Tunnels Chairman Essam Waly and Siemens Mobility CEO Michael Peter, in the presence of Prime Minister Mostafa Madbouly, Minister of Transport Egypt Kamel Al Wazir, Siemens AG President & CEO Joe Kaeser and Deputy CEO Roland Busch.
'We are delighted that the Ministry of Transport is seeking to put their trust in us to deliver this important project', said Peter. 'Our digital leadership and comprehensive turnkey services will bring an integrated and state of the art high speed rail system, that will provide a technology boost for the country and create local jobs. The system will significantly enhance passenger experience and reduce travel time for millions of Egyptian people.'
Kaeser said 'by building a high efficiency rail system for the country, we will support the Egyptian people with affordable, clean and reliable transport'.