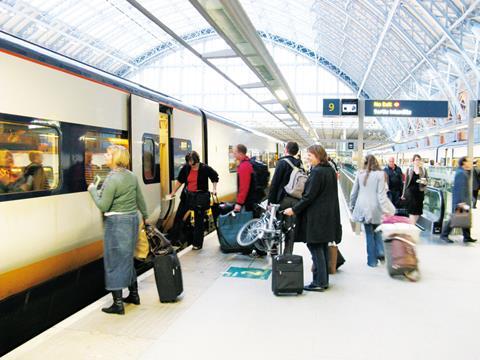 EUROPE: Eurostar said it was seeing 'signs of recovery in the trading environment' when it announced its Quarter 3 results on November 4, with passenger numbers in the previous eight weeks increasing year-on-year. This followed a 'challenging period' when demand had been dampened by the Nice terrorist attack in July.
Overall, passenger journeys in Q3 2016 were down 10% year-on-year at 2·6 million, and sales revenues were 8% lower at £184m.
Eurostar said there had been an 18% year-on-year increase in passengers travelling from France to the UK during the October school holidays. 'After a softening in demand over the summer, we saw an increase in travel from the continent to London during the half-term holiday', said CEO Nicolas Petrovic. 'With the weakening of the pound, the UK is proving to be an attractive destination. The outlook to the end of the year is encouraging with many travellers taking day trips to London to do their Christmas shopping.'
Eurostar said plans for direct services from London to Amsterdam were progressing well, with a second phase of testing of Siemens Velaro e320 trainsets on the Dutch network scheduled for early 2017.
'The launch of our Amsterdam route at the end of next year marks a key milestone and represents a significant growth opportunity for the future', said Petrovic. Eurostar noted that London – Amsterdam is one of the largest international airline markets in Europe, with more than 3 million business and leisure passengers a year.