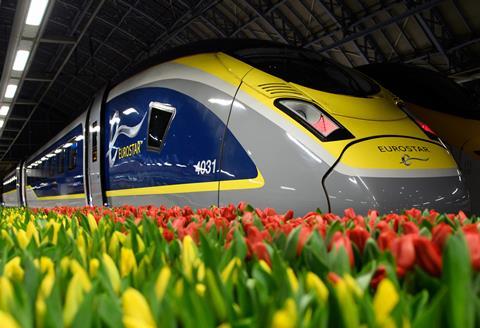 EUROPE: Cross-Channel high speed train operator Eurostar has announced the start dates for through services between Amsterdam, Rotterdam and London.
This follows an agreement between the governments of the UK, France, Belgium and the Netherlands enabling the operation of juxtaposed border controls at the Dutch departure stations, removing the current requirement for UK-bound passengers to catch an earlier Thalys service and then disembark at Brussels Midi for border and Channel Tunnel security checks before boarding a London-bound Eurostar.
'The days of passengers being forced to decamp from the train at Brussels to file through passport control will soon be over', said UK Secretary of State for Transport Grant Shapps when Eurostar ran a preview train on February 4.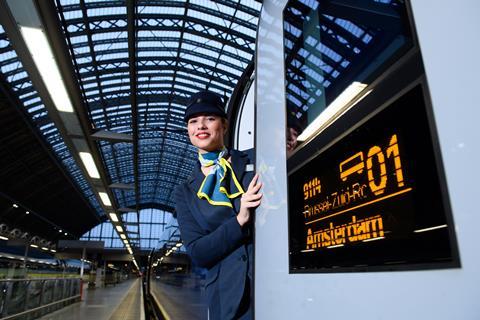 There are currently three Eurostar services a day from the UK to the Netherlands. Starting from April 30 there will be two through trains a day from Amsterdam Centraal to London St Pancras with a journey time of around 4 h. Through journeys from Rotterdam to London will be possible from May 18.
Tickets for the through services are to go on sale on February 11.
Eurostar aims to add a third and then a fourth daily service, but the start dates for these have not been finalised. Dutch national operator NS said talks are underway for the operation of five London-bound trains a day during 2021.
Fully-fledged alternative to the plane
The start of direct services 'makes the train journey to London easier and faster', said the Netherlands' Minister of Infrastructure & Water Management Cora van Nieuwenhuizen. 'Check-in Brussels will no longer be necessary, saving travellers an hour of travel time. This way the train really becomes a fully-fledged alternative to the plane.'
Eurostar said its 'hassle-free travel' would provide a 'compelling reason' for travellers to switch from air, with a journey between London and Amsterdam resulting in 80% less carbon per passenger than the equivalent flight.
Chief Executive Mike Cooper said the trains from the UK to the Netherlands 'on one of Europe's busiest leisure and business routes' had proved very popular, with 570 000 passengers carried since the launch in April 2018.
NS, its Abellio subsidiary's UK operator Greater Anglia and Harwich – Hoek van Holland ferry operator Stena Line are promoting their Rail & Sail through tickets between stations in eastern England and the Netherlands, following the rebuilding of the Hoek van Holland – Schiedam –Rotterdam railway as a metro line.