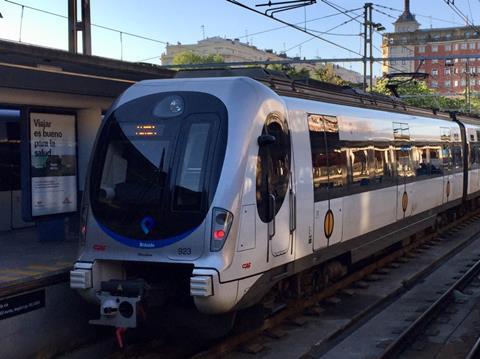 SPAIN: Basque regional operator Euskotren is planning to launch high speed commuter trains over the 1 435 mm gauge 'Basque Y' high speed network linking San Sebastián, Gasteiz-Vitoría and Bilbao.
Speaking on the sidelines of the World Metro & Light Rail Congress in Bilbao on April 19, Euskotren Chief Executive Manuel Leza told Railway Gazette that liberalisation of the Spanish passenger market, required under the EU's Fourth Railway Package, means Euskotren can acquire paths from ADIF. Today all domestic high speed services in Spain are provided by national operator Renfe.
The 'Basque Y' project envisages construction of standard gauge alignments to connect the Basque region with Madrid, joining the existing high speed network at Venta de Baños north of Valladolid. The 'Y' network would see a triangular junction built at Gasteiz-Vitoría, with branches serving San Sebastían and Bilbao. The project also includes provision of mixed-gauge over the 17 km from San Sebastían to the French border at Hendaye. In 2015, the Spanish Development Ministry said it was committed to launching high speed services to the Basque region by the end of 2019 following a protracted tendering and construction process.
Owned by the Basque regional government, Euskotren currently manages and operates the 1 000 mm gauge network linking Hendaye, San Sebastían and Bilbao. This has metro-type characteristics in both San Sebastían and Bilbao including underground sections, but the 100 km route between the two cities is largely single track and serves several rural towns. The journey time of 2 h 30 min is not competitive with express bus services which link San Sebastían and Bilbao in just 1 h on relatively modern roads, Leza said. However, road congestion is a growing problem, and this strengthens the case for short-distance high speed trains, he felt.