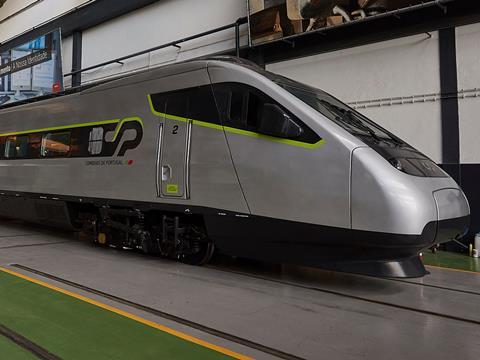 PORTUGAL: The first refurbished Alfa Pendular tilting trainset was handed over to national operator CP by maintenance business EMEF on March 24.

EMEF is refurbishing all 10 of CP's premium inter-city trains under a contract worth €18m. The trains were supplied in 1999-2000 by a consortium led by Fiat Ferroviaria and are a derivative of its Pendolino family. The six-car trains are used on Braga – Porto – Lisboa – Faro services at speeds of up to 220 km/h.

EMEF is carrying out the mid-life refit at its main workshops in Entroncamento. In addition to general mechanical and electrical overhaul work, the train underwent 'thorough refurbishment to improve passenger safety and comfort', EMEF says.

New seat shells, foam filling and leather covers have been fitted, along with new lighting. The flooring has been renewed using cork-based material to improve heat and acoustic insulation; 300 m2 of carpet has been replaced, EMEF reports. The buffet-bar and toilets have also been remodelled. An updated wi-fi and mobile communications backbone has been fitted, and all seats now have access to a power supply. An external redesign has required 2 700 kg of paint, while 44 km of updated wiring has been installed. The refurbishment was carried out by around 80 staff with approximately 90% local content.

'This project demonstrates EMEF's ability to take its place as a lead company that can incorporate the contributions of other sectors of Portuguese industry', commented EMEF Chief Executive Alberto Castanho Ribeiro.