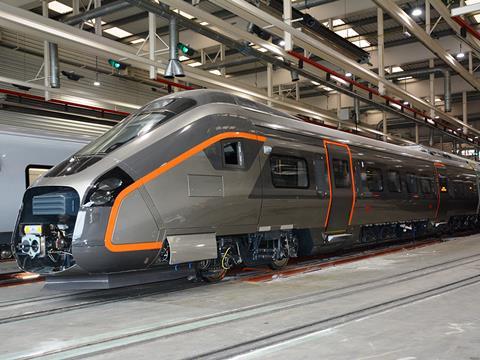 NORWAY: Dynamic testing with the first of eight four-car Oaris trainsets that CAF is building for Norwegian operator Flytoget is due to begin in April. One set will travel to Velim in the Czech Republic for trials before the trains enter service on Flytoget's Airport Express service between Gardermoen Airport and Oslo.
The Flytoget trains represent the first series build of CAF's Oaris platform. Flytoget placed an order for eight Oaris trains in April 2015, choosing a version tailored to cope with Norway's cold winter weather — they have been designed to operate in temperatures ranging from -40°C to +35°C.
To be known as Type 78, they will share the Airport Express service with Flytoget's existing fleet of 16 Type 71 trainsets supplied by Adtranz in the 1990s. With 238 fixed and 10 folding seats, Type 78 has aluminium bodyshells and features one car with a low floor for easy access by passengers in wheelchairs. Maximum speed will be 245 km/h, and two sets will be able to run in multiple.