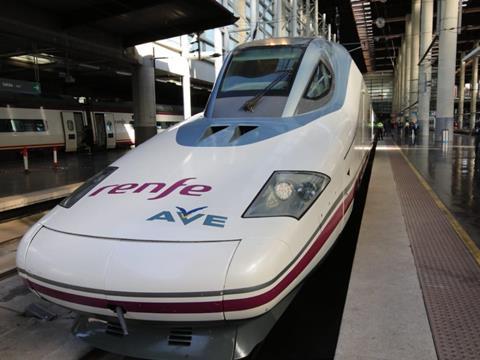 SPAIN: Infrastructure manager ADIF has received four requests for capacity to operate passenger services on the 'general interest' national network including the main high speed corridors.
Applications for train paths from December 14 2020 were submitted by national incumbent RENFE, the Rielsfera subsidiary of France's SNCF, Motion Rail and Intermodalidad de Levante.
ADIF said the level of interest which had been shown by the October 31 deadline was a significant milestone in the opening of the European rail market. It expects the presence of new operators to contribute towards making more intensive and efficient use of the network.
RENFE has expressed interest in increasing its services by 20% to maintain its market dominance.
Motion Rail brings together Talgo, travel and hospitality group Globalia which owns Air Europa, and financial backer Trilantic Europe which has invested in various Spanish companies including Talgo. The rolling stock manufacturer said it had been working on the project for several years, founding Motion Rail and obtaining an operator's licence.
Ilsa was founded by the owners of regional airline Air Nostrum, which has teamed up with Italian state operator Trenitalia. Ilsa had previously been working with Acciona, but the construction group told Railway Gazette 'we are no longer looking at opportunities in rail liberalisation.'
The applications will now be reviewed by high speed line manager ADIF AV, with the capacity allocations scheduled to be announced in December. Subject to approval by the National Commission on Markets & Competition, the 10-year framework agreements would be signed by March 15 2020.
ADIF is offering paths on three high speed axes totalling 165 trains per direction per day, equivalent to a 60% increase. Paths on each route would be made available in three bundles of different sizes, with the aim of facilitating market entry for new operators.
ADIF's market opening process was described in more detail in the June 2019 issue of Railway Gazette International magazine, which subscribers can read in the digital archive.