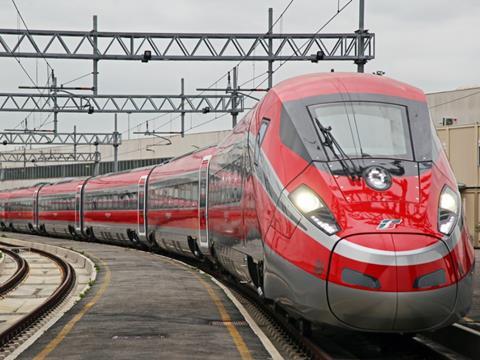 ITALY: Trenitalia is to put its first Frecciarossa 1000 high speed trains into revenue service with the start of the summer timetable on June 14, the national operator announced on April 25.
The announcement was made during a non-stop run between Milano and Roma conveying Italian President Sergio Mattarella. He was joined for the trip by Transport Minister Graziano Delrio and Minister of Culture & Tourism Dario Franceschini, FS Group President Marcello Messori and CEO Michele Mario Elia, Finmeccanica CEO Mauro Moretti and Bombardier Transportation President Lutz Bertling, as well as Manuela Olivieri, widow of the Italian runner Pietro Mennea after whom the first trainset is named.
The special train left Milano Centrale at 13.30 and arrived at Roma Termini at 16.25, covering the 566 km in 2 h 55 min with no intermediate stops.
Being supplied by a consortium of Bombardier and AnsaldoBreda, the ETR1000 trainsets were approved for commercial operation by national safety authority Agenzia Nazionale per la Sicurezza Ferroviaria on April 14, following a two-year testing and commissioning programme. According to FS, six trainsets have now been accepted for revenue service, with all 50 on course to be delivered by early 2017.
Although designed for a maximum speed of 360 km/h, the trains will initially enter service at 300 km/h. Trenitalia says this will ensure 'outstanding performance in terms of acceleration, traction, braking and safety', as well as a high level of onboard comfort 'to meet the different requirements and needs of every traveller'.
The Frecciarossa 1000 service will initially provide eight trains each way on the core route between Roma and Milano, of which four will run through to Torino and four will terminate at Rho Fiera Milano to serve the Expo 2015 fair. At the southern end, seven trains will run to or from Napoli. Another six trips each way will be added in September, with the total increasing again to 22 trains in each direction from the December 2015 timetable change.