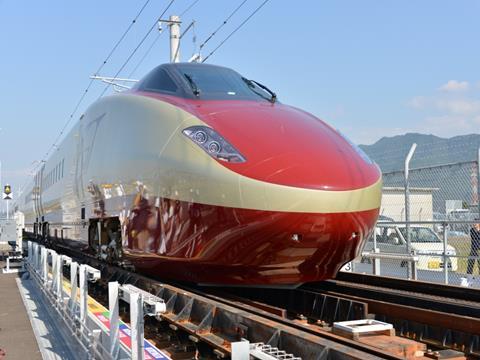 JAPAN: JR Kyushu and the Japan Railway Construction Transport & Technology Agency officially launched test running with the gauge-changing Free Gauge Train prototype in a ceremony at Yatsushiro on October 19.
Designated Series 9000 by JR Kyushu, the four-car trainset is being tested between Kagoshima-Chuo and Shin-Yatsushiro on the 1 435 mm gauge Kyushu Shinkansen and from Shin-Yatsushiro to Udo on the 1 067 mm gauge Kagoshima Line. The unit is designed to run at up to 270 km/h on the Shinkansen network and 130 km/h on conventional tracks.
Developed by JRTT, the Free Gauge Train has been derived from two earlier gauge-changing prototypes which had been tested in Japan and at the Transportation Technology Center in the USA. Built by Kawasaki Heavy Industries, the unit was handed over at JR Kyushu's Kumamoto depot in April.
As well as contributing to the exterior design, KHI was responsible for manufacturing the carbodies and gauge-changing bogies for the two 22·8 m long driving cars and one of the 20 m intermediate vehicles. The lead cars incorporate a carbon fibre reinforced plastic bodyshell, and have dimmable glass in the windows rather than conventional blinds or curtains. The train also makes use of lightweight high-voltage electrical components.
JR Kyushu is planning to use gauge-changing trainsets on Shinkansen services between Hakata and Nagasaki, where an isolated section of high speed line is expected to open in 2022. The 45·7 km section between Takeo Onsen and Isahaya has been under construction for some years, and in 2012 the government authorised JRTT to begin work on the 21 km western section from Isahaya to Nagasaki. The gauge-changing trainsets will use an existing 1 067 mm gauge line to bridge the gap between Takeo-Onsen and a junction with the Kyushu Shinkansen at Shin-Tosu.
The prototype is expected to run for 600 000 km over three years to ascertain its suitability for commercial operation and the level of maintenance required on the gauge-convertible technology. JRTT anticipates that a further five or six years will then be needed to develop and build a series of production trainsets for regular use.