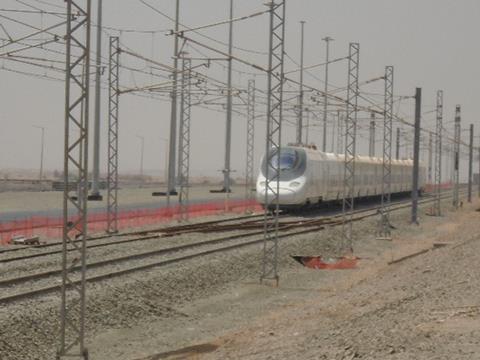 SAUDI ARABIA: The Haramain High Speed Rail Line between Makkah, Jeddah and Madinah will open in March 2018, the Spanish-led Al Shoula consortium announced on November 18. A spokesman said that 'partial operations' on the 444 km route would begin in December 2017.
The line had originally been expected to open in January 2017, but in May Spain's then Minister of Development Ana Pastor announced that completion of the €6·7bn railway systems contract had been put back by 14 months to the first quarter of 2018. With Saudi Railways Organization pushing for completion by the end of 2017, the two parties agreed in September to the appointment of an independent arbitrator to try and resolve ongoing disagreements. This was followed by a visit to Madrid by SRO President Dr Rumaih Mohammed Al-Rumaih on October 25-26.
Amid suggestions that the consortium of 12 Spanish and two Saudi contractors had been looking to delay completion until early 2019, SRO has reportedly agreed to grant the contractors a further three months. It has also agreed to pay an extra €150m towards the cost over-runs.
The Ministry of Development said on November 18 that minister Iñigo de la Serna was satisfied with the 'agreement in principle' reached between the consortium and the Saudi Arabian authorities. Describing the accord as 'an important step' towards completion of the 'desert AVE', the ministry said the deal 'resolves the differences which arose between the two parties, clearing the way for the works to be finished'.
De la Serna had been part of a delegation that visited Saudi Arabia with the King of Spain on November 12-14, along with Secretary of State for Infrastructure, Transport & Housing Julio Gómez-Pomar. The minister had been due to meet his Saudi counterpart on November 13.
The first trains are already testing on the route, and a Talgo trainset reached Madinah under its own power on November 9.The line is expected to carry around 165 000 passengers per day when fully operational.