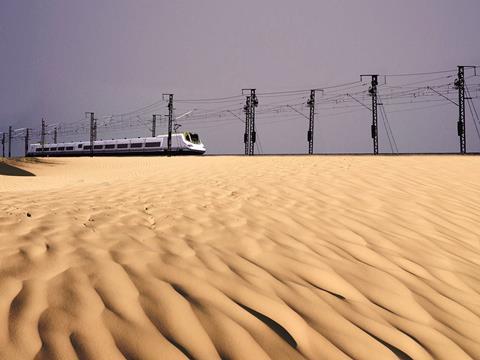 SAUDI ARABIA: The completion date for the Haramain High Speed Rail line has been put back by a further 14 months from January 2017 to the first quarter of 2018, Spain's Development Minister Ana Pastor said on May 10. Pastor also said Saudi Arabia had agreed to bring its payments to the railway systems consortium up to date.
Railway systems and rolling stock for the 450 km Makkah – Jeddah – Madinah line are being supplied under a €6·7bn contract which was awarded in October 2011 to the AlShoula Consortium of two Saudi and 12 Spanish companies, including Renfe, Adif and rolling stock supplier Talgo (RG 7.12 p32).
Opening had been envisaged for 2014 when the railway systems contract was signed in January 2012. However, the project has faced difficulties including allegations of delays to the completion of the civil works which are being undertaken under separate contracts, windblown sand in the inhospitable climate and disputes within the consortium.