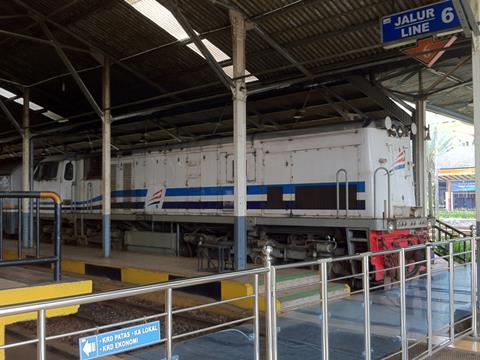 INDONESIA: Proposals to develop a 150 km high speed line between Jakarta and Bandung have been dropped, the government announced on September 3.
A statement issued by the office of President Joko Widodo confirmed that the government's priorities were the upgrading of the existing Trans-Java main lines, the Jakarta suburban network and airport rail link, and the construction of new lines to encourage economic development in other islands, including Sumatra and Sulwesi.
In a battle described locally as a 'beauty contest', Japanese and Chinese consortia had been lobbying intensively over the past three years for a concession to build and equip the proposed Jakarta – Bandung line, which could later be extended to Surabaya.
Despite the signing of a Memorandum of Understanding in April during a visit by China's President Xi Jinping, the Ministry of State-Owned Enterprises had made clear that the US$5bn scheme was not part of its railway budget and would depend on the provision of international financial support.
Minister for Economic Affairs Darmin Nasution informed both the Chinese and Japanese promoters on September 3 that their latest proposals for a 300 km/h line were 'not accepted'. He suggested that upgrading the existing line for 'medium speed' operation could allow an end-to-end journey time 'only 10 min slower' than the estimated 35 min at between 30% and 40% of the cost.
Presidential Chief of Staff Teten Masduki explained that Widodo had commissioned an independent review into the high speed project, and had concluded that the medium speed option was 'better value' for the Bandung route. Nevertheless, Nasution said both bidders would be welcome to put forward proposals for a high speed line between Jakarta and Surabaya.