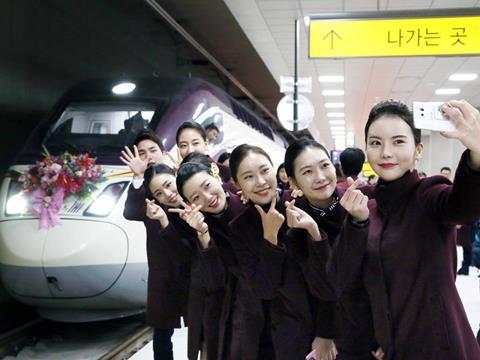 SOUTH KOREA: The 61 km Sudokwon high speed railway opened for traffic on December 9, with trains initially being operated by new entrant Supreme Railways.

The high speed line provides a link from Suseo in the southern suburbs of Seoul to a junction near Pyeongtaek with the existing Gyongbu high speed line to Busan. It is intended to serve the suburban districts that have sprung up over recent years to the south and east of the Seoul metropolitan area, including Dongtan, Pangyo New City, Bundang and Giheung. More than 5 million inhabitants live in the Seoul-Gangnam-Gangdong-Southeast Gyeounggi region, and trains from Suseo will cut the Gangnam – Busan journey time by around 1 h compared with travelling through the interchange with the existing KTX network at Seoul station.

No less than 52 km of the Sudokwon alignment is in tunnel, and two intermediate stations have been built at Dongtan and Jije. These will be used by GTX high speed commuter services from 2021.

Civil works began in 2008. Electrical and railway systems were supplied by a consortium led by LSIS under a contract awarded by Korea Rail Network Authority in December 2014; interlocking equipment was supplied by Alstom.