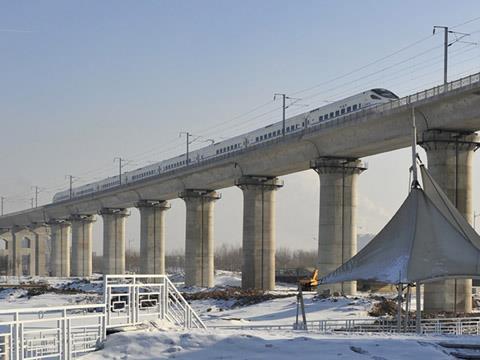 CHINA: A 210 km rail link to the North Korean border town of Dandong was opened for revenue service on September 1. This is the first of two high speed lines serving the border region that are scheduled to open this year.
Under construction since 2010, the 207 km Shenyang – Dandong line will cut journey times from 3½ h to just over 60 min, helping to boost economic competitiveness in the region.
Facing North Korea across the Yalu Jiang, towards the southern end of the border, Dandong is the gateway for around 80% of the trade between the two countries, according to Xinhua. One of three special economic zones developed in North Korea with Chinese support is located at nearby Hwanggumpyong Island, and a new bridge across the river has recently been completed.
Further north, the 361 km Jilin – Hunchun line is expected to open for traffic on October 1, following the start of test running last month. Designed for 250 km/h operation, this route is an eastern extension of the 111 km Changchun – Jilin line inaugurated in January 2011.
Requiring 115 bridges and viaducts totalling 91 km as well as 85 tunnels, the line will shorten the distance between the two cities by around 40%. It will serve nine stations, including Dunhua, Antuxi and Tumen, and is expected to attract many visitors as it runs through a particularly scenic part of the country.
Located on the River Tumen in the Korean-speaking Yanbian autonomous prefecture of Jilin province, Hunchun lies in a narrow corridor between Russia and North Korea. This has encouraged the development of cross-border trade in recent years as a gateway to much of northeast Asia, including traffic between China and Japan.
A 40 km conventional rail link between Hunchun and Makhalino in Russia was completed in 1999 but services were suspended five years later; the link was reopened in 2013 following upgrading. However, the city with a population of around 220 000 has not previously been served by passenger trains, which terminated at Tumen, around 70 km to the west.