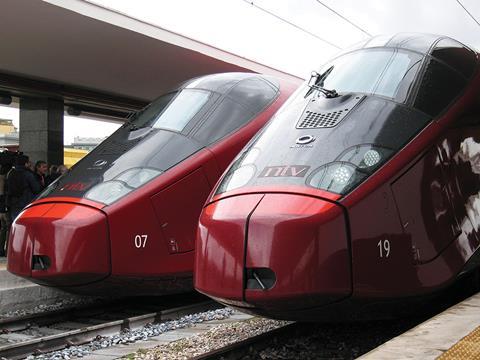 ITALY: Open access high speed train operator Nuovo Trasporto Viaggiatori SpA announced on February 7 that its shareholders had decided to accept a €1·98bn takeover bid from international fund manager Global Infrastructure Partners III. The deal was ratified by a board meeting the following day, which also confirmed that NTV would withdraw its application to list on the Borsa Italiana stock exchange in Milano. This had been lodged on January 23 with the flotation expected towards the end of February.
As well as CEO Flavio Cattaneo, who acquired a €15m stake in November, and Chairman Luca Cordero di Montezemolo who was one of the founders back in 2006, the NTV shareholders include Intesa Sanpaolo, MDP Holding Due, FA DEL and Allegro. GIP manages funds of more than US$40bn on behalf of international investors, and has a number of transport-related holdings, including Australian rail freight operator Pacific National, the Port of Melbourne and London's Gatwick Airport.
GIP has offered €1·94bn for 100% of the NTV share capital, plus a further €30m in respect of the dividend due to shareholders following the company's AGM on January 19 and €10m to cover expenses incurred in the aborted listing process. The sale agreement is due to be finalised by February 11, with closure of the transaction conditional upon approval by the relevant competition authorities.
The NTV shareholders have been offered an option to reinvest up to 25% of the sale proceeds under the same conditions that apply to the acquisition. This option may be exercised by one or more recipients within the overall limit. Both Cattaneo and di Montezemolo are expected to remain in post for a few months to manage the transition to the new owner.
In its 2017 financial results released on January 18, NTV reported that 12·8 million passengers had used its Italo high speed services during the year, a 15·3% increase on 2016. Total operating revenues increased by 24·8% from €364·4m to €454·9m, while adjusted EBITDA was up by 64% from €95m to €155·7m. Net profit for the year was €33·8m, compared with €32·7m in 2016.
With the December timetable change, NTV put into service the first four of 17 Italo Evo Pendolino trainsets to augment its 25 strong fleet of AGV trainsets. The remaining sets are due to be delivered by October 2019, and NTV has an option to buy a further five sets. NTV said delivery of the 250 km/h trains would allow it to increase the number of daily trips on its existing routes, as well as launch east west services on the Torino – Milano – Venezia corridor and extend Napoli/Roma – Verona trains to Bolzano.