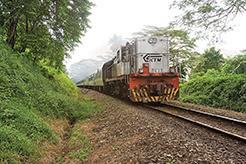 ASIA: A high speed station is planned for the Sungai Besi regeneration zone south of Kuala Lumpur, Malaysian Prime Minister Najib Razak announced on April 7 at the end of the fifth 'leaders' retreat' with his Singaporean counterpart, Lee Hsien Loong.
The two leaders reported that 'good progress' was being made in the planning of the proposed 330 km Singapore – Kuala Lumpur high speed line. They had formally committed to the project at last year's summit, by establishing a joint task force to examine preliminary design options.
The selection of Sungai Besi as a hub station for the Kuala Lumpur conurbation reflects the Malaysian government's desire to redevelop the former airbase as a mixed use residential and business quarter.
At the southern end of the route, Loong reported that three station sites had been identified for a potential Singapore terminus. The two favoured choices are both on the west side of the territory, at Tuas West or Jurong East. The third option is a deep-level station beneath the city centre, although Loong told reporters that this would be the most difficult and costly option within the present budget of US$15·6bn.
Both politicians recognised that the timetable to have the railway open by 2020 was 'ambitious'. 'It is too early for us to revise the timeline yet', Razak said. 'It was designed to be ambitious to begin with.' Loong added that 'it will keep us busy for the next few years. When completed, it will bring our countries closer together.'