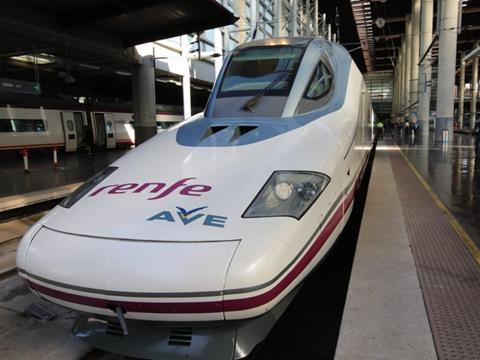 SPAIN: National operator RENFE has awarded Seranco-Pavasal a €12·5m, nine-month contract to double capacity at the Santa Catalina high speed train maintenance depot in the southern suburbs of Madrid.
Once the expansion has been completed and the cross-capital tunnel with 1 435 mm gauge tracks has been opened for commercial services, the Santa Catalina site is expected to serve as the sole maintenance centre for high speed trains on the Spanish network. The sets used on lines to the northwest of Madrid are currently maintained at Fuencarral.
RENFE's high speed fleet currently operates 331 services a day: 158 branded AVE, 90 Avant, 69 Alvia and 14 Avlo.
The future capacity of the Santa Catalina depot will be 48 vehicles, with eight main workstations. The extension to the existing maintenance hall will add four 200 m long tracks, a bogie drop, pits and gantry cranes. Offices, changing rooms, and storerooms will also be provided. Some of the power for the expanded complex is to be generated by photovoltaic panels.