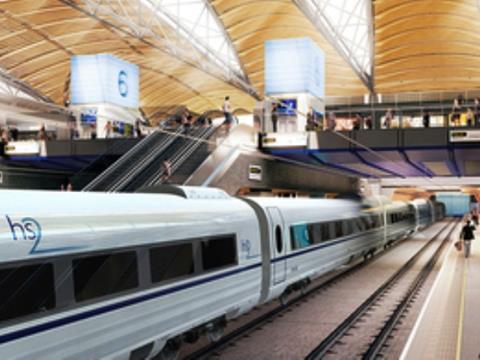 UK: Construction of a further section of the planned High Speed 2 route to Manchester is to be brought forward, with the Crewe – Birmingham link now expected to open in 2027, Chancellor of the Exchequer George Osborne announced on November 30. This is six years ahead of the original schedule for Phase II, which would see the routes from Birmingham to Manchester and Leeds completed in 2033.
Pointing out the 'excellent connectivity which already exists at Crewe', Osborne said that bringing forward Phase IIa would support economic development and job creation under the government's Northern Powerhouse strategy. Phase IIa would run from a connection with Phase I at Fradley (near the Handsacre junction with the West Coast Main Line) to a new hub station at Crewe.
Details of the preferred alignment are set out in a Command Paper issued by Secretary of State for Transport Patrick McLoughlin, along with the related land acquisition and compensation proposals. With the hybrid bill seeking powers to build Phase I now being debated in Parliament, he said the government would prepare a separate bill to cover Phase IIa.
HS2 Ltd Chairman Sir David Higgins had recommended in October 2014 that construction of the Birmingham – Crewe leg should be brought forward. He welcomed the decision, which he said would 'bring the capacity, connectivity and regeneration benefits of HS2 to the Northwest and Scotland years earlier than originally planned.' Completion of phases I and IIa is expected to reduce London – Crewe journey times by 35 min, London – Manchester by 40 min and London – Glasgow by 48 min.
The Chancellor emphasised that the government remained committed to completing the full 'Y-shaped' network serving Manchester, Leeds and Sheffield, for which he had announced a total budget of £55·7bn in the Comprehensive Spending Review on November 25.
McLoughlin confirmed that 'we continue to make good progress on our plans for the rest of HS2 Phase II, and will make a decision on the route in autumn 2016'. The command paper sets out the government thinking on the remainder of Phase II, including station and depot locations, as well as closer integration with the existing rail network and the proposed Northern Powerhouse Rail Programme. The Transport Secretary emphasised that 'HS2 will not be a separate, standalone railway. It will be a key part of our national rail network, and wider transport infrastructure.'
As part of the planning process, Higgins issued on November 30 his 'Yorkshire Hub' report setting out recommendations for developing a single station in Leeds which would better integrate HS2 with existing rail services. He said it had been 'very gratifying to see a consensus grow among the city regions in the East Midlands and Yorkshire on the siting of future hub stations at Toton and Leeds.'