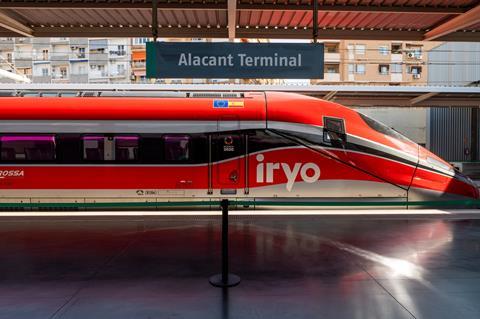 SPAIN: Private high speed operator Iryo launched two pairs of return trains between Madrid Chamartín and Alacant on June 2.
The inaugural service departed at 07.45 from Madrid to Alacant, with Transport Minister Xavier Flores onboard.
Trains leave Madrid Chamartín at 07.45 and 15.45 daily, while departures from Alacant Terminal are at 12.25 and 19.35.
Services only call at Albacete, with a second stop at Cuenca to be introduced at a later date.
'The success of rail passenger service liberalisation has undoubtedly become beneficial for everybody, as the appearance of a third high speed operator has revolutionised the market', Flores said at the launch.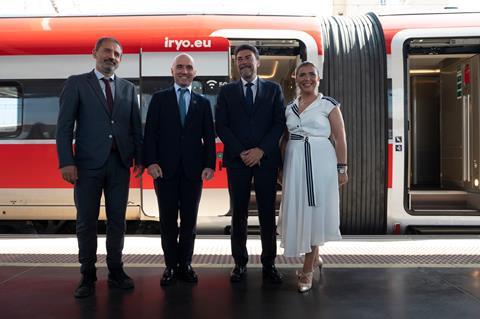 'Iryo's arrival is a piece of great news since it results in an increase in connectivity for Alacant, the tenth largest city in Spain. The date of this inauguration could not be more appropriate, since we are now poised to enter the tourism high season', said Mayor of Alacant Luis Barcala. 'The date also coincides with the city's official festival, Las Hogueras, which is recognised as being of international tourism value.'
'Connectivity, especially with Madrid, is crucial, so that Alacant can continue growing, tourism being encouraged, and our city can continue investing in projects and talent', added Antonio Peral, Councillor for Projects, Statistics & New Technologies at Alacant municipality.
'On June 17 2013, the high speed line to Alacant was inaugurated. 10 years later, and thanks to the liberalisation of the high speed rail market, Iryo's service network has expanded to include both Alacant and Antequera. We want to attract even more passengers, focusing on sustainable mobility and a real modal shift in Spanish mobility', explained Iryo CEO Simone Gorini.
Since March incumbent national operator RENFE has been operating Avlo low-cost services on the Madrid – Alacant route in addition to its regular AVE high speed services, while SNCF's low-cost subsidiary Ouigo España launched its Madrid – Alacant service on April 28. Iryo started a Madrid to Sevilla and Málaga service on March 31.
On June 2, Iryo's Madrid to Málaga services started to call at Antequera, while from June 15, its Madrid – Barcelona services will start to serve Camp de Tarragona. This brings to 12 the number of towns and cities served by the Trenitalia-backed operator.