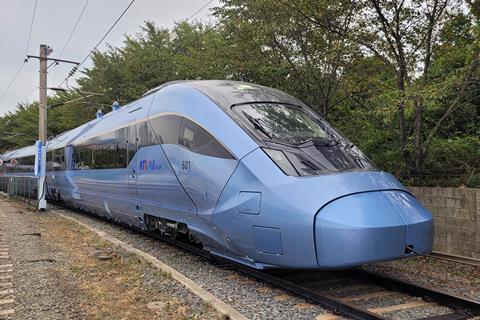 SOUTH KOREA: Hyundai Rotem has been awarded a contract to supply 31 high speed trains to South Korea's two inter-city operators.
The supplier will deliver 17 eight-car EMU-320 high speed trainsets for national operator Korail, plus 14 similar sets to private operator Supreme Railways, Hyundai Rotem has confirmed to Railway Gazette.
Supreme Railways
Supreme Railways signed a 1·09tr won contract with Hyundai Rotem on April 28; the contract includes 15 years of maintenance. The 14 trainsets are scheduled to be delivered between May 2027 and February 2028.
Hyundai Rotem beat a rival offer from a consortium of Woojin Industrial Systems and Talgo. Both bidders were evaluated as eligible on the technical criteria, and the winner was selected by price.
Korail
Korail meanwhile awarded its 710bn won contract to Hyundai Rotem on March 27. Woojin Industrial Systems submitted a rival bid on its own, but this was not deemed to have met the technical requirements.
Hyundai Rotem has already built two pre-series EMU-320 high speed trainsets for Korail under a 2016 contract, the manufacturer unveiled these in September and December 2022 and they are now carrying out test runs.
Korail told Railway Gazette that it intends to use the trains to add capacity on existing routes, with a further increase planned once four-tracking of the Pyeongtaek – Osong line is completed; this is expected in 2027. Further trains would be used to launch new services linking Suwon and Incheon near the capital to Busan, Mokpo and Yeosu-Expo.
Rotating seats
The EMU-320 trainsets are derived from the HEMU-430X prototype which Hyundai Rotem unveiled in May 2012. They have distributed traction equipment, rather than power cars, which is expected to provide better acceleration and braking performance.
Each train has 515 seats with a design speed of 352 km/h, limited to 320 km/h in operation. The trains are to undergo more than 180 000 km of test runs before receiving type approval.
Korail says that compared to its previous high speed train designs, the new fleet will have improved interior noise protection and rotating seats that can be adjusted from a single control unit when the trains reach a terminus.