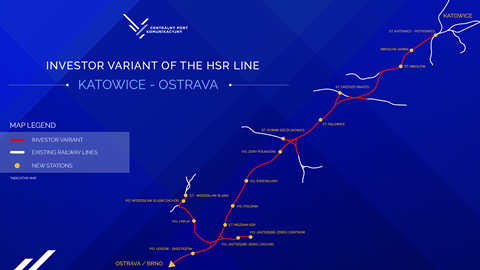 POLAND: A consortium of Korea National Railway and Dohwa Engineering has been awarded a contract to design a 70 km section of 250 km/h line between Katowice and the Czech border.
The 134m złoty contract announced on June 21 has been awarded as part of the Centralny Port Komunikacyjny transport investment programme.
The proposed line would provide a rail link to Jastrzębie-Zdrój, the largest Polish town without a service, and provide faster connections between Katowice and Rybnik, Żory and Wodzisław Śląski.
It would also form part of a route between Katowice and the Czech city of Ostrava, making the Górny Śląsk region a hub for rail corridors connecting Katowice, Warszawa and Kraków with Brno, Praha, Bratislava, Wien and Budapest.
As South Korea's state-owned infrastructure manager, KNR has experience of construction projects; it has also provided technical consultancy services and feasibility studies for conventional and high speed railways. Its consortium partner Dohwa Engineering has completed more than 7 000 projects in South Korea and globally.