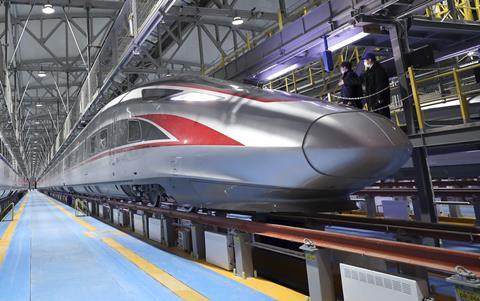 CHINA: A winterised variant of the Fuxing China Standard high speed train family has been developed for use on 350 km/h services linking Beijing with Shenyang and Harbin in the northern province of Heilongjiang.
The southernmost section of the 698·3 km Beijing – Shenyang Passenger-Dedicated Line between the capital and Chengde had been expected to open at the end of 2020, the 506 km Chengde – Shenyang section having been put into operation in December 2018. Now projected to open for revenue service in the coming weeks, the line will connect at Shenyang with the Harbin – Dalian PDL completed in 2012, which is operated by a fleet of winterised CRH380BG trainsets.
Unveiled at China Railway's Chaoyang rolling stock depot in the capital's suburbs on January 7, the 16-car CR400AF-G is designed to operate in temperatures as low as -40°C, carrying up to 1 080 passengers. Manufactured by CRRC Qingao Sifang, it is the second winterised variant of the Fuxing family, following the eight-car CR400BF-G built by CRRC Changchun Railway Vehicles for use on the Beijing – Zhangjiakou PDL and the recently-opened inter-city railway serving Xiong'an New Area in Hebei.
As Harbin is one of China's coldest cities, the CR400AF-G is fitted with electric heating systems to prevent the brakes and pipework from freezing.
'If the train stops in Harbin for an hour, the braking system can easily freeze', depot director Zhou Song explained to local media. 'The new system will enable the brakes to move from time to time, like a person who stamps his feet to keep warm in cold weather.' Meanwhile, the heating system has been designed to protect the train's water supplies and toilet discharge pipework.
According to China Railway, 1 036 Fuxing trainsets of various types have now been put into operation since the China Standard family was approved for revenue service in 2017. The growing fleet has operated a cumulative 827 million passenger-carrying trips totalling 836 million train-km.