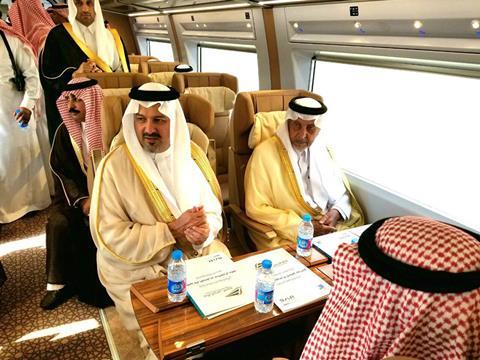 SAUDI ARABIA: A demonstration service on the 450 km Haramain High Speed Rail line between Makkah, Jeddah and Madinah is planned by the end of the year. There would be two trips in each direction for invited guests on Fridays and Saturdays.
With the planned opening date of March 15 2018 now less than four months away, the testing programme has been stepped up. After an initial trial over the 75 km section between Jeddah and Makkah on October 17, a further test trip was made on November 20. On board for the October run were SRO President Dr Rumaih Al-Rumaih and CEO Dr Bashar Al Malik, along with senior executives from the Al Shoula consortium which has the €6·7bn contract for railway systems and equipment.
Sufficient progress had been made by November 20 for the Governor of Makkah province Khaled Al-Faisal and Minister of Transport Nabeel Al-Amoudi, who was appointed in early October, to participate in the run.
Testing over the section between Jeddah and Makkah followed earlier trials between Jeddah and Madinah, where one of the Talgo trainsets had attained a speed of 300 km/h on July 25. The train commenced its 370 km run at Jeddah and halted at King Abdullah Economic City to allow guests, who included Spanish Minister of Development Inigo de la Serna, to visit the line's main control centre.
Talgo is delivering 35 trainsets based on the Talgo 350 design for commercial services. A 36th trainset, a 10-car VIP formation intended for use by the royal family, is due to be delivered by the end of the year.