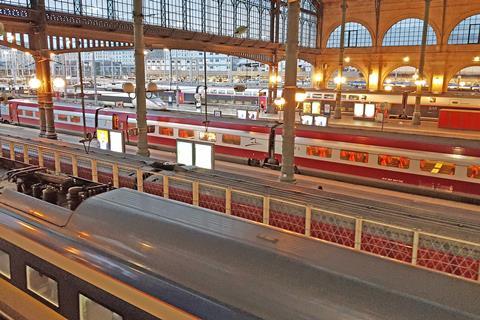 EUROPE: The European Commission has approved the planned merger of cross-border high speed train operators Thalys and Eurostar. SNCF Voyageurs told Railway Gazette International the merger 'should ensure the rebound and growth ambitions of Thalys and Eurostar.'
Announcing its decision on March 29, the Commission said the merger would have a very limited impact on the structure of the market and thus would not raise any competition concerns.
The merger is to be undertaken through French national railway group SNCF's acquisition of Thalys parent company THIF Factory, which is based in Brussels and owned by SNCF (60%) and Belgian national operator SNCB (40%).
Eurostar International Ltd is owned by 55% by SNCF, 5% by SNCB and 40% by the Patina Rail joint venture of Caisse de Depot et Placement du Quebec and Hermes Infrastructure, with SNCF having operational control.
Under plans announced in October 2021, Eurostar and Thalys are to be transferred to a single holding company in which SNCF will have a 55·75% share and its passenger business SNCF Voyageurs will have exclusive management control, with SNCB having a 18·5% stake and Patina Rail 25·75%. The company will be based in Brussels and will use the Eurostar name for all services, with the Thalys brand to be phased out.