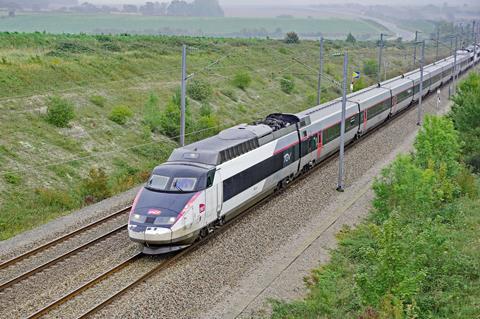 FRANCE: Initial public consultations are underway on long-standing proposals to build a high speed line between Montpellier and Perpignan, after Transport Minister Jean-Baptiste Djébbari established a steering committee for the project and commenced the process needed to authorise the 150 km Ligne à Grande Vitesse.
Public consultations began on November 2, and the conclusions are due to be announced on January 14. Members of the steering committee met towards the end of last year and confirmed that they would begin preparing the documents required for a formal public enquiry in autumn 2021. They will also examine proposals for land purchases.
Étienne Guyot, Préfet for the Occitanie region, said the committee expected to complete a 'financial protocol' for the scheme by 'spring 2021' ― the cost is estimated at €5∙52bn at July 2014 prices.
The project has been divided into two phases. The first covers the 52∙3 km from Montpellier to Béziers. Designed for mixed traffic, as with the Nîmes – Montpellier bypass with which it will connect end-on, this line is expected to receive a declaration of public utility during 2023. However, construction is not expected to start until much later, possibly around 2030. In addition to the new alignment, there would be 7 km of connecting lines providing links to the conventional routes at both ends.
The second phase covers a further 97∙7 km, plus 23 km of connecting lines. This would be designed solely for high speed passenger services and include new stations to serve Béziers and Narbonne. At the southern end it would join the 44∙5 km Perpignan – Figueres cross-border high speed line into Spain that opened in December 2010. Opening of this phase is not envisaged until around 2040.
There have been suggestions that the Béziers – Perpignan section should also cater for mixed traffic to match the Nîmes – Montpellier bypass and Perpignan – Figueres lines, but SNCF Réseau has ruled this out, arguing that the shallower gradients needed for freight trains would not be feasible without extensive, and expensive, tunnelling.
In December transport users lobbying organisation FNAUT wrote an open letter to Prime Minister Jean Castex demanding a 'complete revision' of plans for the second phase. FNAUT also criticised the proposed new stations, pointing out that connections with local TER services using the existing stations would not be possible.
FNAUT drew attention to the vulnerability of the old line, which in places hugs the Mediterranean coast, to the effects of climate change. SNCF Réseau countered that it may in any case prove necessary to rebuild or modify sections of the existing line, adding that further details of studies into this would be published in time for the public enquiry in autumn 2021.