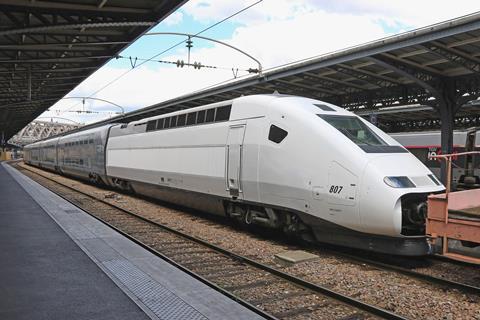 SPAIN: High speed open access services between Madrid and Barcelona under the Falbalá brand are now expected to be launched on March 15 2021.
The launch had originally been planned for December this year, but was delayed by the Covid-19 pandemic.
Announcing the new date on September 22, Alain Krakovitch, Director General of Voyages SNCF and Hélène Valenzuela, Director General of Ouigo España, said there would be five return services a day between Barcelona and the capital, with trains making intermediate calls at Zaragoza and Tarragona.
Ouigo España is also planning to launch five open access high speed return services a day from Madrid to Andalucia and Levante, but no start date has been set.
Services will be operated using a fleet of 14 TGV 2N2 Euroduplex sets, the first of which has already begun trial running and driver training on the ADIF AV network with a view to obtaining approval for commercial use. The 320 km/h set is currently based at Cerro Negro in the southern suburbs of Madrid.
The Falbalá fleet will be maintained by Alstom staff at three RENFE depots. Modifications for use in Spain include installation of the ASFA train protection system; interior adaptations include changes to the catering area which will be branded as 'Ouibar'.
Ouigo España also launched its website on September 22 with an introductory offer. The first 10 000 visitors to register, starting at 18.00 on September 24, will receive vouchers entitling them to buy tickets for just €1. Fares on Falbalá services will be 'very competitive', and buying an online ticket will take less than 3 min, the company said.
Ouigo España staff are being taken on in collaboration with SNCF's Spanish freight subsidiary Captrain, with former freight train drivers being trained to operate the TGVs. Around 1 300 direct and indirect jobs will be created.