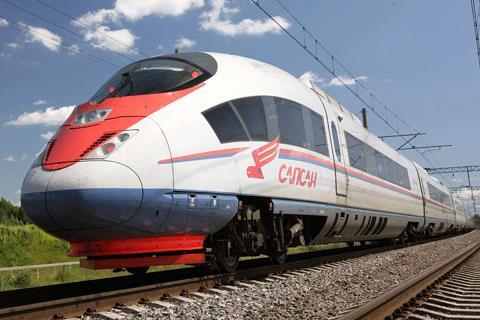 RUSSIA:· Russian Railways, the Engineering Centre for Railway Transport and Knorr-Bremse have formed a partnership to develop high speed trains which could link Russia's largest cities at speeds up to 400 km/h. It is envisaged that the first of the very high speed trains could enter service in 2026.
The partnership announced on June 25 covers the provision of engineering, consulting and design services, and the development of operational and repair documentation for high speed rolling stock and its production in Russia.
The ECRT rolling stock engineering innovation centre was established last year by RZD, Sinara Transport and Siemens Mobility with the aim of developing a trainsets capable of speeds up to 400 km/h.
Knorr-Bremse will bring its experience of rolling stock subsystems to help define the technical specifications for the future trainsets.
The company supplied subsystems for the 16 Sapsan trainsets from Siemens Moblity's Velaro family which currently operate services from Moscow to St Petersburg and Nizhny Novgorod at speeds up to 250 km/h, and a further 13 of these trainsets are order.
'Knorr-Bremse is looking forward to helping conceptualise the Russian very high speed trains of the future, thus helping to provide people with even better rail connections', said Harald Schneider, member of the management board of Knorr-Bremse Rail Vehicle Systems responsible for activities in the CIS. 'In the long term, we will also work with our partners to commercialise this next generation by localising it for the 1 520 mm gauge area.'
Sergey Kobzev, Deputy General Director & Chief Engineer of Russian Railways, said RZD and Knorr-Bremse had been successfully co-operating for many years, and the signing of this agreement would 'undoubtedly contribute to the development of high speed rail services in the Russian Federation'.