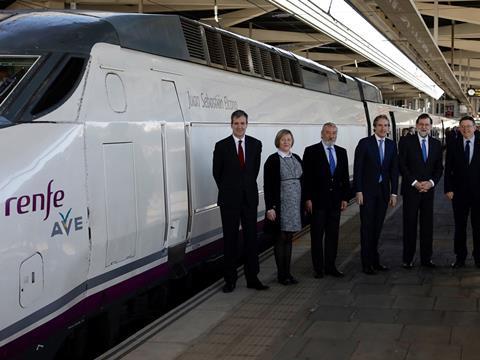 SPAIN: National operator RENFE began operating high speed services between Madrid and Castelló de la Plana on January 23. Running over the high speed line from Madrid Atocha to Valencia and then on the 1 668 mm gauge Mediterranean Corridor to Castelló where a third rail has been laid on one track to accommodate 1 435 mm gauge trains, the service is initially limited to three trips a day from Castelló to Madrid and two in the reverse direction.
Castelló has previously had a direct service to Madrid operated by Alvia gauge-changing trainsets, and these continue to run. The fastest AVE timing is 2 h 32 min by the 09.40 weekday departure from Madrid.
The service was inaugurated on January 22, when Prime Minister Mariano Rajoy travelled on a special train from Madrid to Castelló. He was accompanied by Development Minister Íñigo de la Serna and President of the Valencia regional government Ximo Puig.
Total cost of the project to provide dual gauge between Valencia and Castelló is €355m, of which €178m has been spent under the now-completed first phase. Track layouts and interlockings have been modified at 12 stations, with 72 new turnouts, while resignalling has involved the installation of 290 axle-counters and 198 balises for the ASFA train protection system.
A new double-track alignment has been built over 1 km at Nules-La Vilavella, raising the maximum speed through this curved section to 170 km/h. As well as converting the second track to dual gauge between Valencia and Castelló, according to the Ministry of Development work will commence in 2019 on construction of a dedicated high speed line which could be finished by 2022.
RENFE is offering Madrid – Castelló promotional fares of €25 for travel until March 11. The operator said that it had sold 4 700 tickets in the first five days after bookings opened.