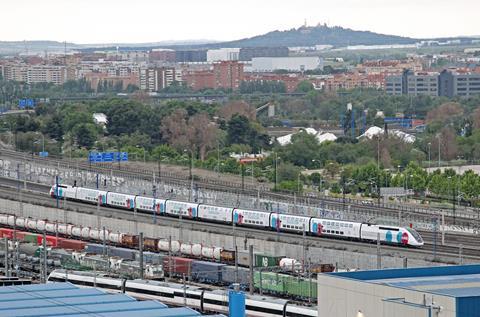 SPAIN: The first fare-paying passengers were due to board Ouigo services on the morning of May 10 as SNCF's low-cost high speed rail subsidiary entered the Spanish domestic market, competing with RENFE on the Madrid – Barcelona route.
A special train carrying invited guests, public competition winners and media representatives had run between Madrid Atocha and Barcelona Sants on May 7, becoming the first open access passenger service to operate in the country.
The launch of commercial services has been timed to align with a relaxation of a coronavirus-related national State of Emergency, which ended on May 9. 'This is a historic moment. It has become a reality, in spite of the problems caused by the pandemic', commented Hélène Valenzuela, Ouigo's Managing Director for Spain, on May 7.
SNCF Voyages has invested €600m in setting up the Ouigo operation, its first use of the brand outside France. More than 1 300 jobs have been created, 98% of which are full-time and permanent posts, including 40 drivers. It is hoped that the new service could generate around €150m per annum in revenues, purely through leisure travel. Since launching in France in 2013, Ouigo trains have carried around 150 million passengers.
A fleet of 14 Alstom Euroduplex high speed trains has been allocated to the Spanish operation, each with capacity for 509 passengers. They are to be maintained by the manufacturer. The initial service launched on May 10 comprises five trains each way per day between Madrid and Barcelona, two of which call at Zaragoza and one at Camp de Tarragona. The yield-managed single journey fares start at €9 for adults and €5 for children, a much lower price point than those offered by RENFE's AVE service.
However, the Spanish incumbent is set to launch its own low-cost services under the AVLO brand on June 23, while a third competitor is expected to enter the fray in March next year in the shape of the Intermodalidad de Levante joint venture of Trenitalia and Air Nostrum.