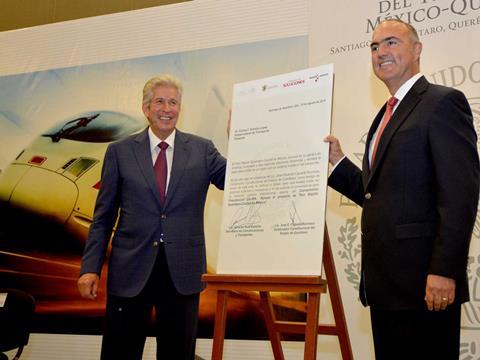 MEXICO: During a ceremony held in the city of Querétaro on August 15, federal Secretary of Communications & Transport Gerardo Ruiz and Querétaro state governor José Calzada formally signed off tendering documentation for the project to build a high speed line between Mexico City and Querétaro.
Representing an investment in excess of 40bn pesos, the new line will be engineered for operations at up to 300 km/h. Of the 210 km of new infrastructure between the Buenavista terminus in Mexico City and Querétaro, 12 km will be in tunnel and 16 km on viaduct.
According to Director General of Rail & Multimodal Transport Pablo Suárez, a turnkey contract is to be awarded with a single consortium responsible for executing all works. The high speed line is due to enter service in the second half of 2017.
With trains operating every 60 min and up to every 20 min in the peaks, offering an end-to-end journey of 58 min, the new line is expected to carry 23 000 passengers/day, and remove around 18 000 car journeys from the roads during its first year of operation.
As well as reducing CO2 emissions by 95 tonnes and avoiding over 100 road accident fatalities a year, the high speed railway should avoid the need to widen the highway between Mexico City and Querétaro where traffic is growing by 5% a year and would require eight lanes by 2017.