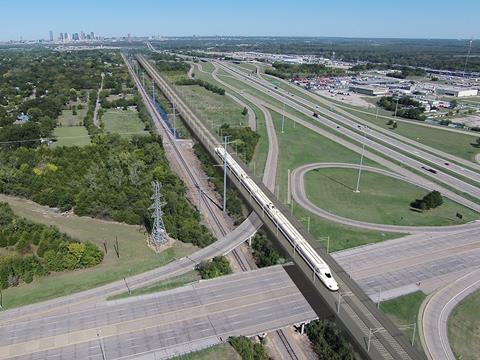 USA: Dallas – Houston high speed railway promoter Texas Central reached an Early Contractor Involvement agreement with Mass Electric Construction Co on November 23.
Under the agreement, the Kiewit Corp subsidiary will work until the end of 2019 to define the scope, execution plan, schedule and price of a railway equipment and fit-out contract, which is expected to be signed later this year. This contract would include 'all necessary power, signalling and communications equipment', Texas Central said. This agreement is the 'most recent milestone towards the construction phase' of the 385 km high speed line; civil works are expected to start in 2020.
Mass Electric has been tasked with designing railway equipment which would operate within the 'whole system' approach used by JR Central on its Tokaido Shinkansen in Japan. JR Central is one of the financial backers of the Texas programme and intends to supply an export variant of its N700S high speed trainsets for the line.
Worth an indicative $20bn, the privately funded high speed railway is intended to link Dallas with Houston in around 90 min. On September 13, Texas Central announced that it had signed a design-build contract for civil works with Salini Impregilo Corp. The project promoter hopes to reach financial close on its funding package by the end of 2020.