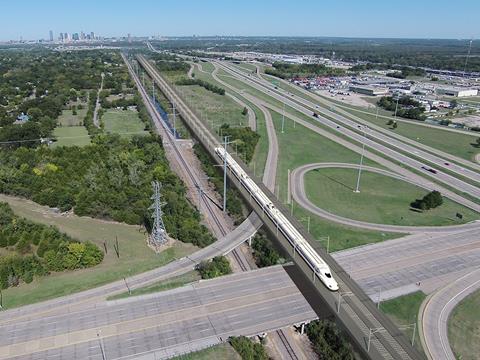 USA: The Texas Supreme Court has ruled that Dallas to Houston high speed railway project promoters Texas Central Railroad & Infrastructure and Integrated Texas Logistics do have the right to acquire land for the proposed line under the state's eminent domain process.
An owner of land on the proposed 379 km route had argued that the promoters lacked the eminent domain authority available to 'legal entit[ies] operating a railroad' and/or to 'corporation[s] chartered under the laws of this state to conduct and operate an electric railway between two municipalities in this state', because they are not currently operating a railway, and a high speed line was not what the framers of the 1907 statutes on interurban railways had in mind.
The initial trial court held that the promoters did not qualify as either railroads or interurban electric railway companies, and granted summary judgment to the landowner.
The court of appeals reversed this, holding that they qualified as both.
The Texas Supreme Court has now agreed with the court of appeals that the promoters have eminent domain powers as interurban electric railway companies, and so it did need to address whether they also qualify as railroad companies.
In its decision published on June 24 the court noted that 'it is important to recognise what this case is about and what it is not about. The case involves the interpretation of statutes relating to eminent domain; it does not ask us to opine about whether high-speed rail between Houston and Dallas is a good idea or whether the benefits of the proposed rail service outweigh its detriments.'
The ruling was welcomed by construction contractor Webuild, which would undertake the civil works for the line through its Lane subsidiary under a $16bn deal agreed last year.
It was also welcomed by the US High Speed Rail Association, with President Andy Kunz saying 'this ruling is great news for high speed rail in America. High speed rail will help give Texans another fast option to get around their state in a clean, green way. We commend this ruling, now Texas can move forward with this visionary project.'
Websites
We are not responsible for the content of external sites