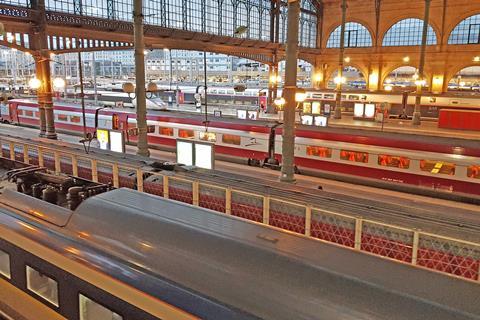 EUROPE: SNCF, SNCB and the Patina Rail investment vehicle announced on September 27 their intention to combine the Eurostar and Thalys high speed rail operations, reporting that outline proposals were being presented to their respective boards.
The proposed merger is being taken forward under a project branded Green Speed. SNCF already holds majority shares in both operators, with SNCB also having minority stakes in both. Canadian pension fund Caisse de Dépot et de Placement du Québec and Hermes GPE hold the shares in Eurostar previously controlled by the UK government through LCR; Hermes and CPDQ are working together on Green Speed under the Patina Rail brand.
Announcing the plan, the partners said that the imperative of fighting climate change meant that the time was right to redouble efforts to drive traffic from air and road to environmentally-friendly high speed rail. The proposals envisage the two operators increasing their combined ridership from 18 million passenger-journeys per year in 2018 to 30 million by 2030, while increasing efforts to provide sustainable mobility by using renewable energy for traction and redoubling sustainability initiatives onboard, such as the elimination of single-use plastic.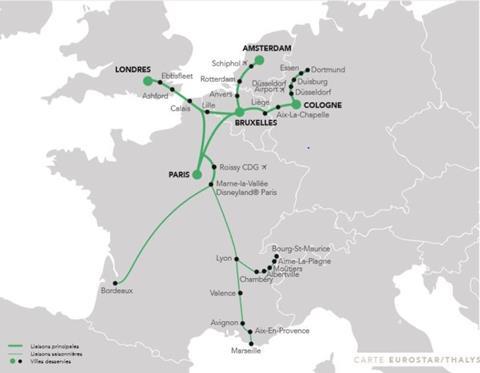 The two operators currently link five countries with a combined population of 243 million people. Both operate in the Netherlands, Belgium and France, while Thalys serves Germany and Eurostar serves the UK. Green Speed envisages the development of a joint network with shared loyalty programmes, integrated ticketing, easier interchange between routes and improved customer service and digital tools. A shared rolling stock fleet would also be created and, in the longer term, the partners hope to serve more European cities.
Further consultation is now expected to define the merger more precisely, and to seek feedback from staff at Thalys and Eurostar. A firm proposal could then be put forward to the relevant regulatory authorities including the European Commission.
'The scale of the climate emergency and the need for environmentally-friendly mobility demands an even more ambitious response from us', explained SNCF President Guillaume Pepy. 'By bringing together the combined strengths of these two operators, we are ushering in a new era of high speed rail in Europe.'
SNCB Chief Executive Sophie Dutordoir felt that 'it is the right moment to bring together Thalys and Eurostar in a combination that can only bring positives for our customers. We will create an alliance of highly skilled railway operators and stable shareholders, with Brussels playing a key role as the hub at the heart of the various routes and cities served.'
'We are proud to continue our long association with SNCF and to further develop the role of Eurostar within our portfolio', said Emmanual Jaclot, Head of Infrastructure at CDPQ. 'We want to contribute to the growth of sustainable travel in Europe.'