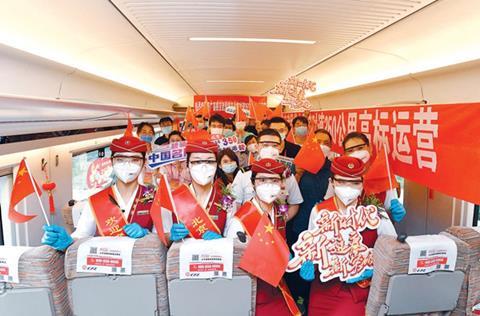 CHINA: The 424 km Xiangyang – Wanzhou section of the Chongqing – Zhengzhou high speed rail corridor and the 195 km Zhengzhou – Puyang section of the Zhengzhou – Jinan route opened on June 20, and on the same date Beijing Fengtai station reopened following a multi-year modernisation.
The Xiangyang – Wazhou line includes 91 bridges and 57 tunnels, with the 184 km Wanzhou – Wushan section having 32 bridges with a total length of 10·8 km and 28 tunnels with a length of 169·7 km.
A major feature is the 18·9 km Xiaosanxia tunnel in Chongqing. This was designed by China Railway Second Research Institute and constructed by China Railway Tunnel Bureau between February 2017 and July 26 2020.
Other major tunnels are at Xinhua (18·8 km), Wushan (16·6 km), Xiangluping (15·2 km), Baokang (14·6 km), Fengjie (13·5 km), Badong (13·2 km), Xiangshuwan (12·5 km), Ganxigou (11·9 km), Luojiashan (10·6 km) and Xingshan (10·1 km).
Trial running in the single-bore double-track tunnels involved two trains running in opposite directions at 403 km/h, 15% above the maximum operating speed of 350 km/h.
The opening has reduced end-to-end journey times on the Chongqing – Zhengzhou passenger-dedicated corridor from 8 h to 4 h 23 min, with the fastest time from Chongqing to Beijing cut from more than 20 h to less than 7 h.
The maximum speed on the Beijing – Wuhan line was raised from 310 to 350 km/h on June 20, increasing capacity by 7% and shortening the fastest journey time to 3 h 48 min.