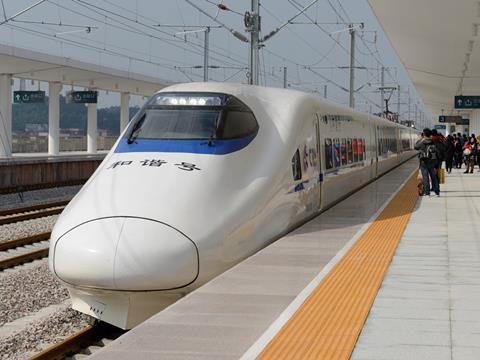 CHINA: The 1 223 km eastern section of the Urumqi – Lanzhou Passenger-Dedicated Line between Hami and Lanzhou was opened for passenger service on December 26, little more than a month after the 553 km western section between Urumqi and Hami was opened on November 17.
Designed for 250 km/h operation, the 1 776 km route serves 21 towns and cities, including Xining, capital of Qinghai province, Jiayuguan and Turfan. It also provides direct services from Xining to the northwest, whereas passengers from that city previously had to travel via Lanzhou to the east.
The journey time between the two termini has been cut from 16 h to less than 12 h. Just one pair of trains currently plies the entire route daily, along with many more shorter-distance services. A first class ticket for the Urumqi – Lanzhou journey costs 658 yuan, and second class 548 yuan.
China Railway Corp also inaugurated three other Passenger-Dedicated Lines and an 'inter-city' connector during the final few days of December. The 857 km Guiyang – Guangzhou PDL in southern China has been designed for 300 km/h operation, reducing the journey time between the capital cities of Guizhou and Guangdong provinces from 21 h to just over 4 h. This line has 20 stations, and is initially served by 20 trains each way per day.
Opened on the same day, the 577 km Nanning – Guangzhou PDL connects Guangzhou with the capital of neighbouring Guangxi province, and is served by 18 trains each way per day. Trains operating at up to 200 km/h have cut the end to end journey time from 12 h 30 min to 3 h 30 min.
Finally, two lines were opened on December 28: the 299 km Jimo – Rongcheng line built for 250 km/h operation and the 200 km/h inter-city line running east from Zhengzhou to Kaifeng. This 50 km route under construction since December 2009 at a cost of 50bn yuan is served by a regular shuttle of 200nbsp;km/h trains, offering an end-to-end journey time of just 19 min.