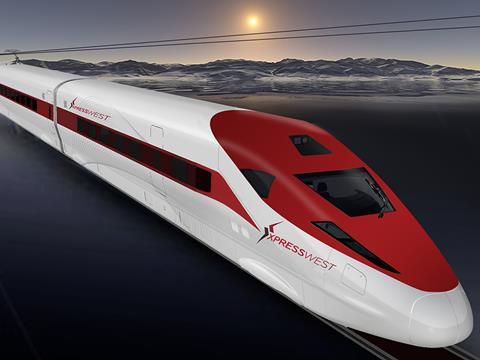 USA: Private-sector California to Nevada high speed rail project promoter XpressWest and a consortium of Chinese rail industry companies announced on September 17 that they had agreed to create a joint venture to develop, finance, build and operate a 370 km line between Los Angeles and Las Vegas.
The Southwest Rail Network would have stations in Las Vegas, Victorville and Palmdale, where there would be an interchange with Metrolink services to Los Angeles. XpressWest said the project is intended to 'drive new economic development and grow the tourism industry which is vital to the economy of the region', and to 'firmly establish a US-based high-speed rail industry that will result in significant job creation'.
China Railway International USA Co is a newly-formed Nevada limited liability company owned by a consortium of China Railway International Co, China Railway Group, CRRC Qingdao Sifang, China Construction America, CREEC USA and CRSC International.
Formerly known as DesertXpress, XpressWest is a private company led by Marnell Companies which has been developing plans for a Las Vegas – Los Angeles line since 2005.
It says it has obtained federal authorisation to build and operate the line, obtained Surface Transportation Board approval and completed 'significant development work for the route'. It said investment-grade ridership studies demonstrate the corridor is 'a robust market for future rail passengers'.
XpressWest said the decision to form the joint venture was 'the culmination of years of work'. The joint venture would be supported by $100m in initial capital, and is to 'immediately undertake all necessary regulatory and commercial activities' to start the project, with a view to implementation beginning within 100 days and construction planned to commence 'as early as September 2016'.