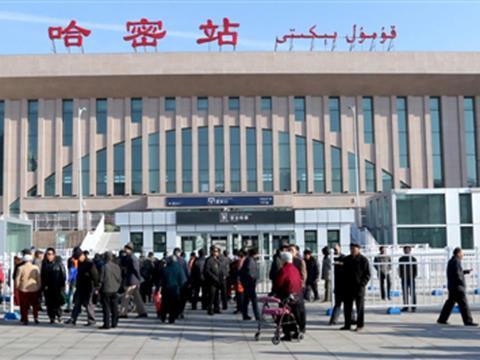 CHINA: The Passenger-Dedicated Line between Urumqi and Hami in the Xinjiang Uyghur autonomous region of western China opened on November 16. The 530 km route serves stations at Urumqi South, Turpan North, Shanshan North, Tuha and Hami.
Construction of the line began in January 2010. The alignment through the Gobi Desert has been designed for 250 km/h operation and features extensive windbreaks to protect trains from crosswinds. Sections of the line are under 24 h video surveillance, and intrusion detection systems are planned.
The new line will eventually carry all passenger services on the corridor, allowing the existing line to be dedicated to freight traffic. This would raise freight capacity from 70 million tonnes a year to 200 million. The new line is initially carrying four services each way per day, worked by CNR Changchun CRH5A trainsets taking around 3 h.
From the end of the year trains will run for 1 776 km from Urumqi to Lanzhou in Gansu province, cutting the journey time by around a half to about 9 h. The completion of further high speed lines by 2017 will enable Urumqi – Beijing journey times to be reduced from 40 h to around 16 h.
Construction of a 1 214 km line between Korla in southern Xinjiang and Golmud in Qinghai was officially launched on November 16. Work is expected to take five years and cost 37bn yuan.