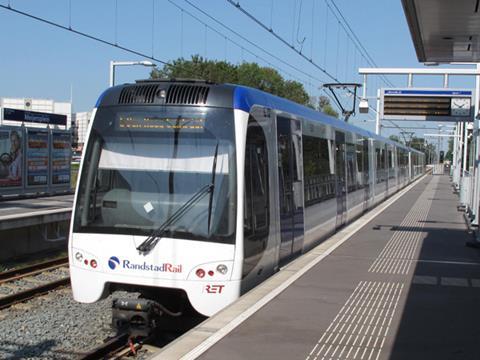 NETHERLANDS: Proposals to convert the 24 km railway between Schiedam Centrum and Hoek van Holland for metro operation were approved by Stadsregio Rotterdam and the municipalities of Maassluis, Vlaardingen, Schiedam and Rotterdam on December 17.
The cost is put at €318m, including the purchase of 18 additional Bombardier Swift three-section trainsets. Subject to funding being confirmed this year, completion is planned for 2017.
The line would be operated as an extension of the existing RandstadRail Line B, which currently runs from Nesselande through central Rotterdam to Schiedam Centrum. All stations would be modernised, and a new station is to be built at Maassluis Steendijkpolder between Maassluis West and Hoek van Holland Haven. The line would also be extended 1·2 km to serve the beach at Hoek van Holland.
Existing electrification equipment would be retained, but the voltage changed from 1·5 kV DC to 750 V DC.
The local authorities expect that more frequent services and better links to the city centre and major traffic generators will increase daily ridership to 18 000 from 13 000 on the current NS rail service.
There would be provision for the continued operation of freight trains between Schiedam, Maassluis and Vlaardingen outside the peak hours.