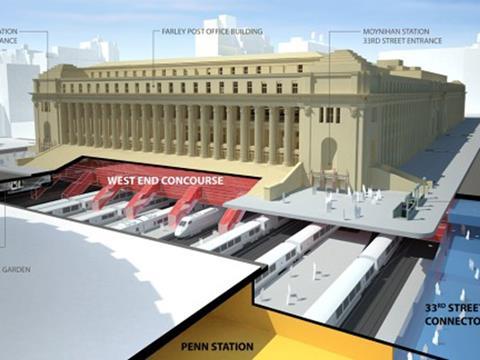 USA: On May 9 the Moynihan Station Development Corp subsidiary of Port Authority of New York & New Jersey ratified the award of a $147·7m contract to begin conversion of Manhattan's Farley Post Office building to relieve congestion at the adjacent Penn Station.
The award of the construction contract to Skanska USA Civil Northeast is the largest element of the $267m first phase of the long-planned Moynihan Station redevelopment, which would ultimately see the whole Farley Post Office annexed to Penn Station as a dedicated Amtrak passenger terminal. The project is being managed by the Port Authority, with Programme Support from the STA Moynihan joint venture of AECOM, STV and Tishman Construction.
According to the Port Authority, the existing western concourse of Penn Station will be extended to twice its present width to serve eight more platforms, to be shared by Amtrak, MTA Long Island Rail Road and NJ Transit services. In addition, access to Penn Station will be provided via the Farley building from 31st and 33rd streets and Eighth Avenue for the first time. Other enhancements include the installation of more escalators and lifts between the concourse and platform levels, and improvements to fire safety equipment, including a new fire service control centre.
Funding contributions are being provided through an $83m federal TIGER grant, $29·5m from New York MTA, $10m from the Port Authority, and the remainder from federal grants and appropriations. Construction will begin later this year for completion by 2016.