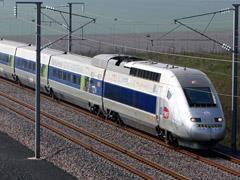 FRANCE: RFF has released a request for expressions of interest in the construction and management, through a public-private partnership, of the Nîmes – Montpellier bypass.
The 70 km bypass follows a new alignment to connect the existing TGV Méditerranée route with the high speed line currently being built from Barcelona towards Perpignan, which will provide a standard gauge connection into Spain. The start of bidding follows the signing of a protocol between RFF and local authorities in Languedoc-Roussillon in June over the financing of the project.
In addition to carrying high speed passenger services, RFF sees the line as a strategic freight artery to carry trains away from the urban areas around both cities, and offering an important boost to capacity for east-west transit traffic along European Corridor D, which runs from Valence to Budapest via Torino. The project is also in keeping with the French government's targets on sustainable development, as outlined in its environmental Grenelle, according to the infrastructure manager.