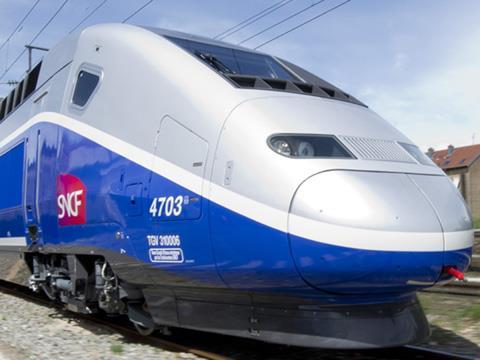 FRANCE: SNCF has exercised an option for a further 40 third-generation Duplex high speed trainsets from Alstom Transport under a framework agreed in June 2007.
SNCF is already taking delivery of 55 of the 320 km/h multi-system double-deck trainsets, branded Euroduplex by Alstom. The first entered traffic in December 2011 on the newly-opened LGV Rhin-Rhône. Alstom says that it had initially agreed an option with SNCF in the 'final quarter of fiscal 2011-12' covering the purchase of 30 trainsets valued at €900m, but this order has now been revised upwards to 40 sets, with the value of the final 10 trains to be booked in fiscal 2012-13.
Due for delivery from 2015, the Euroduplex trains will have power cars built at Alstom's plant in Belfort, end cars from Reichshoffen and intermediate trailers from La Rochelle. Traction equipment will be supplied from Ornans, bogies by Le Creusot and transformers by Le Petit Quevilly; electrical systems will be provided by plants at Tarbes and Villeurbanne.
Each set will be equipped to operate in France, Switzerland, Germany and Luxembourg, with a proportion of the fleet also designed to operate into Spain.
* Alstom Chief Executive Patrick Kron also confirmed on April 2 that, in light of SNCF's option, it would drop its legal proceedings in London against Eurostar. Alstom had launched legal action against the cross-Channel operator, now majority owned by SNCF, after it ordered a fleet of Siemens Velaro e320 trainsets using the UK's Link-Up tendering process. Alstom had alleged that Eurostar had failed to comply with EU public procurement rules.