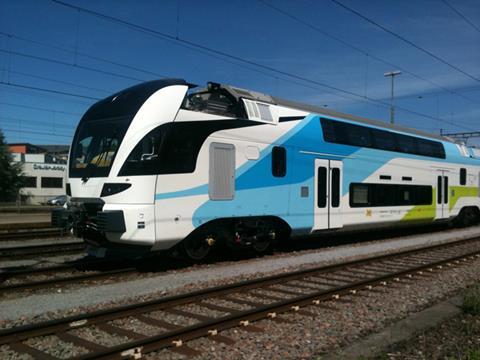 AUSTRIA: On August 23 SNCF confirmed that it had bought a 26% stake in Rail Holding AG, the parent company of open access operator Westbahn Management GmbH.
The purchase takes the form of an injection of share capital into Rail Holding, which becomes a three-way joint venture between SNCF and existing shareholders, founder Stefan Wehinger and Hans-Peter Haselsteiner, chairman of construction company Strabag.
Westbahn intends to run its first trains between Salzburg and Wien in December this year using a fleet of seven Stadler double-deck EMUs. SNCF President Guillaume Pepy said that Westbahn would continue to be managed locally by Wehinger, who keeps his role as CEO.
'We have been impressed by the innovative offering developed by Westbahn, and by the proven ability of Stefan Wehinger', Pepy said, adding that SNCF's role would be to 'bring its expertise' to the business. This will include a particular focus on operational skills and ticket retail, especially online. Approval for the transaction was granted by the European Commission's competition authorities on July 20.
Pepy added that the acquisition marked a further stage in the group's 'targeted international expansion'. SNCF bought a 20% stake in Italian private operator NTV in October 2008.
An in-depth interview with Stefan Wehinger was published in the July 2011 issue of Railway Gazette International. Our subscribers can access this via our digital archive.