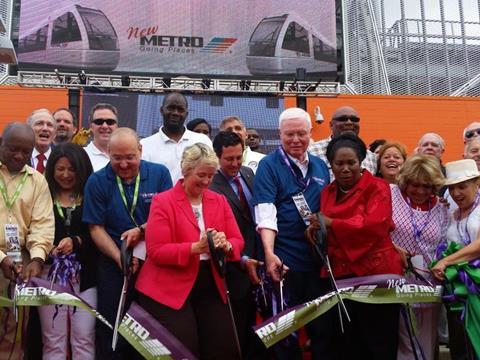 USA: Houston celebrated the opening of two light rail lines on May 23 with music, fireworks and free travel.
The Green and Purple lines add 13·4 route-km to the network, connecting with the 20·5 km north-south Red Line.
The Green Line, also known as the East End Line, links Theater District with Altic/Howard Hughes. It has seven stops including an interchange with the Red Line at Central Station Main. The final eastern section of the route from Altic to Magnolia Park Transit Center is still under construction, and expected to open in 2017.
The Purple (Southeast) Line diverges from the East End Line at EaDo/Stadium and runs to Palm Center, adding a further six stops.
The lines have been built by the Houston Rapid Transit joint venture led by Parsons and also including Granite Construction, Kiewit and Stacy & Witbeck. The joint venture also built the 8·5 km northern extension of the Red Line, which opened in December 2013. These three routes are being built under a $900m Full Funding Grant Agreement signed with the Department of Transportation in November 2011, which will almost treble the size of the network.