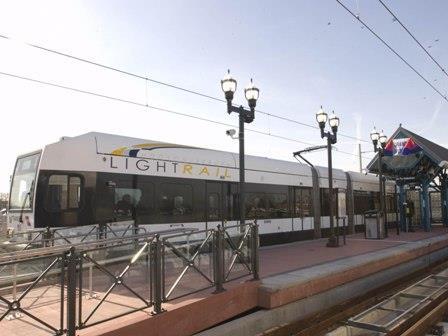 USA: A 1·6 km extension of the Hudson-Bergen light rail line south from the former terminus at 22nd Street to a new stop at Eighth Street in Bayonne opened on January 31. The ribbon-cutting was attended by US Senator Robert Menendez, Bayonne Mayor Mark Smith and New Jersey Transit Executive Director James Weinstein and other officials.

The project, which cost nearly $100m, includes a new brick station building which resembles an 1892 Central Railroad of New Jersey facility that once stood near the site but was knocked down in the 1970s. Construction began in October 2008 and was funded from federal and state sources.
Trains will run at 10 min headways during weekday peak hours and every 20 min at most other times. The Hudson-Bergen light rail network serves 24 stops and carries more than 40 000 passengers on weekdays.

As expected, New Jersey Governor Chris Christie has refused to repay $271m to the Federal Transit Administration for the now-cancelled trans-Hudson commuter rail tunnel.

The FTA wanted a refund of the money it had advanced to begin construction of the project, formally known as Access to the Region's Core, after Christie decided that the state could not afford its share and ordered that the work be stopped. In a response to the FTA's letter, lawyers hired by New Jersey Transit contend that 'there is no legal basis to require NJT to repay any of the funds in question' because the stoppage was due to conditions beyond the state's control, referring to the projected cost over-runs.